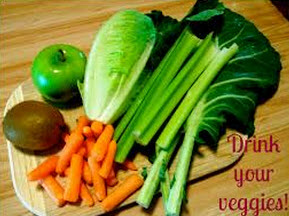 It's fairly common knowledge now that eating vegetables is important to your overall health. Vegetables are the cleansers, energizers, detoxifiers and rejuvenators of the human system.
But the truth is most of us struggle to get the 2-3 cups required each day…especially the variety recommended.
It's no secret that the best way to eat vegetables and get the most out of them is to eat them raw. Eating large quantities of raw vegetables can be a challenge but drinking one or two glasses of vegetable juice daily is relatively easy. You will quickly notice the benefits.
Making your own vegetable juices will supply easily absorbed nutrients, enzymes, vitamins, minerals, protein and fats critical to cancer-proofing your body along with increased… Continue reading →