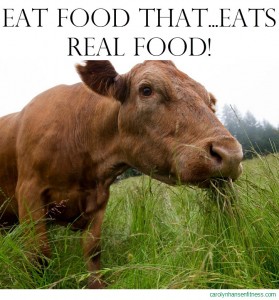 If you still enjoy a great steak dinner you are not alone. Humans have been eating and enjoying different kinds of meat since before we can remember and our bodies are well equipped to absorb and digest the nutrients from meat.
Tribes that are hunger-gatherers experienced excellent health and most of their calories came from eating meat.
Meat is a source of high quality protein as well as nutrients like Creatine and Carnosine…all three important for our brains and our muscles.
All red meat is incredibly nutritious even if grain-fed.
However, grass fed beef raises the bar even higher on nutrition because the diet that cows are fed has a significant impact on the composition of the beef that it produces. In other words, the nutrients in the beef we enjoy are directly related to what the cow is eating. Continue reading →